Fatal vs. non-fatal burden
Burden of disease estimates are one of the only population health measures which combines health loss from living with, and dying prematurely from, illness and injury.
The contribution of fatal (YLL) and non-fatal burden (YLD) to the total burden (DALY) experienced among Aboriginal and Torres Strait Islander people in Australia differs by age, sex and disease. Some disease groups, such as cancers, contribute substantial fatal burden, whilst diseases which don't usually cause death, such as back pain, contribute substantial non-fatal burden.
Use the interactive graph to explore the contribution of fatal and non-fatal burden to the total burden of disease among Indigenous Australians for 2003, 2011 and 2018 by sex, age group and disease or injury.
See Chapters 3 and 4 in the Australian Burden of Disease Study 2018: impact and causes of illness and death in Aboriginal and Torres Strait Islander people report for more information on non-fatal and fatal burden.
This interactive data visualisation compares the amount and proportion of burden that is fatal vs. non-fatal among Indigenous Australians. There are 2 sections which can be customised to report data according to year, sex, disease group and disease. The first section is a single horizontal bar which is shaded to show the proportion of total burden which is non-fatal and fatal for the selected year, sex, disease group and disease. The second section has two horizontal stacked bar charts side by side; the left bar chart represents non-fatal burden and the right bar chart represents fatal burden. Each bar chart shows the amount of burden by 5-year age groups for the selected year, sex, disease group and disease.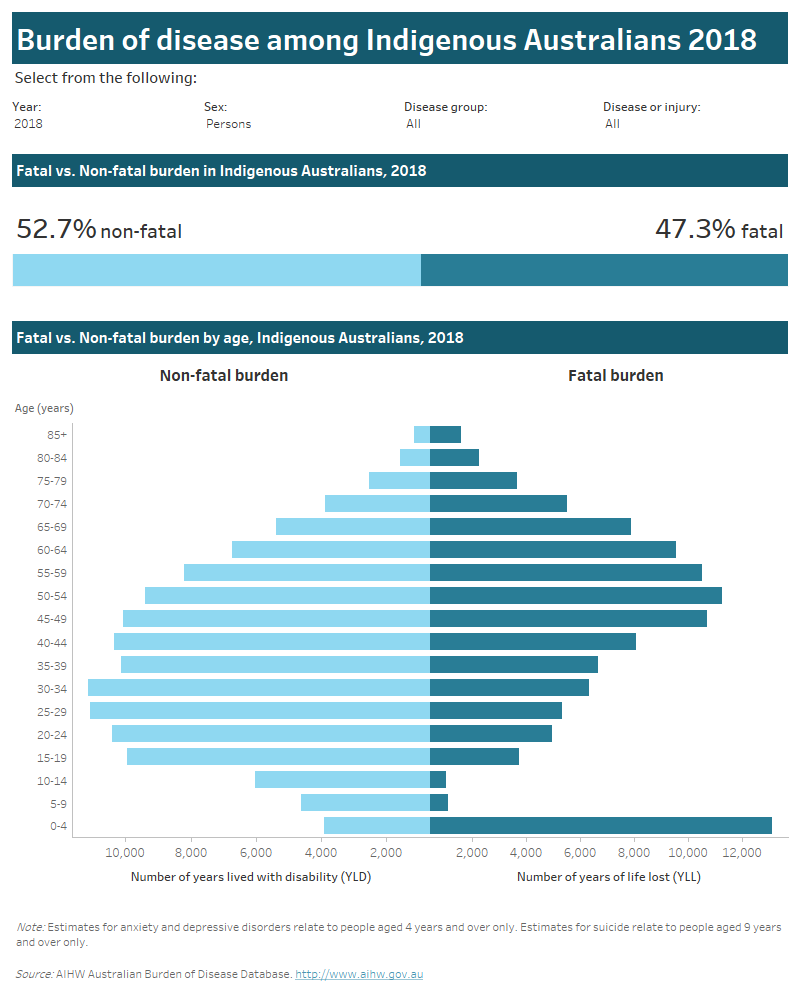 Please use the 'Download' button at the bottom of the dashboard to generate image or PDF versions of the data.