Incidence of heart attacks
Definition: Number of deaths from coronary heart disease plus the number of non-fatal hospitalisations for heart attacks and unstable angina, per 100,000 population.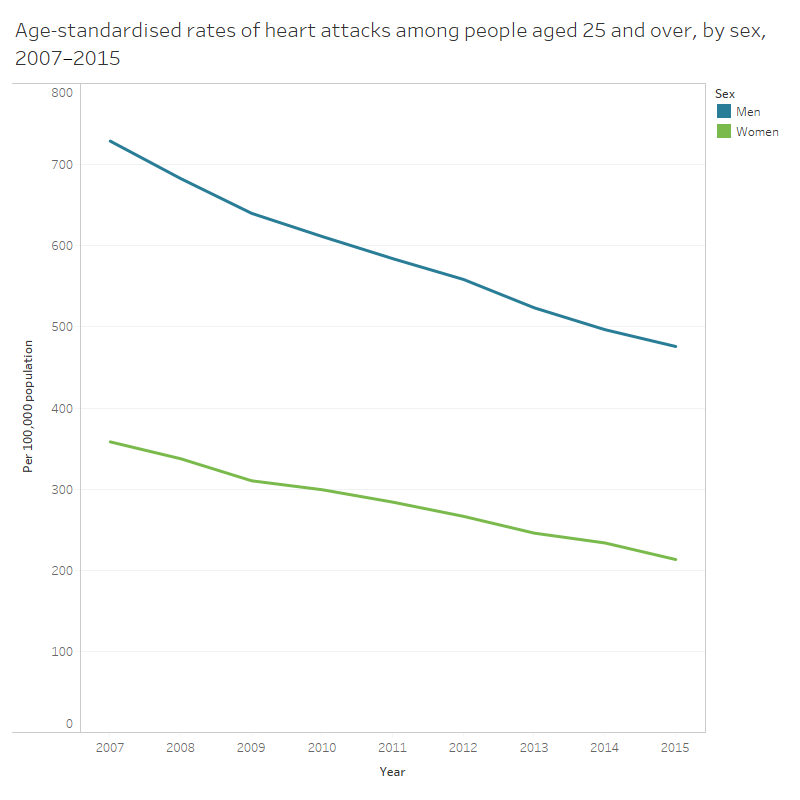 Sources: National Hospital Morbidity Database and National Mortality Database; Table S1.4.1.
In 2015, the age-standardised heart attack rate was 339 per 100,000 people—a 37% decline from the rate for 2007 (534 per 100,000 people).
The heart attack rate for men was more than twice that for women—476 per 100,000 men compared with 213 per 100,000 women in 2015.
The heart attack rate for Indigenous people (based on data from New South Wales, Queensland, Western Australia, South Australia and the Northern Territory) also fell between 2007 and 2015 (from 1,048 to 908 per 100,000 people), but was still higher than the rate for Other Australians (528 per 100,000 people in 2007 and 341 in 2015).
For more information, see Chapter 3.6 'Coronary heart disease'.