Australia's mental health system
Overview
Mental health is a key component of overall health and wellbeing (WHO 2021). In any year in Australia, an estimated 1 in 5 people aged 16–85 will experience a mental health disorder (ABS 2022). Mental health affects and is affected by multiple socioeconomic factors, including a person's access to services, living conditions and employment status, and affects not only the individual but also their families and carers (Slade et al. 2009; WHO 2021). Mental health and physical health are also related. People with mental illnesses are more likely to develop physical illness and tend to die earlier than the general population (Lawrence et al. 2013).
Throughout this web report the terms 'mental illness' and 'mental disorder' are both used to describe a wide range of mental health and behavioural disorders, which can vary in both severity and duration.
A range of mental health‑related services are provided in Australia by various levels of government. The Australian Government funds consultations with specialist medical practitioners, general practitioners (GPs), psychologists and other allied health practitioners through the Medicare Benefits Schedule (MBS), other primary mental health services through the Primary Health Networks and support for psychosocial disabilities through the National Disability Insurance Scheme. Access to psychiatrists, psychologists and other allied health professionals may, dependent on eligibility, be subsidised through initiatives such as Better Access initiative through the preparation of a Mental Health Treatment Plan by a GP. State and territory governments provide mental health services including through public hospitals, including emergency departments, residential mental health care and community mental health care services.
In addition to specialised services, both levels of government provide support to population mental health crisis and support services, such as Lifeline and Beyond Blue. Mental health care is also provided in private hospitals.
Response to COVID-19 pandemic
All Australian governments have progressively been responding to the mental health impacts of the COVID-19 pandemic as they have become better understood. The global pandemic continues to present an ongoing risk to the health of Australians, notwithstanding the measures that have largely protected Australians from the worst impacts of the virus.
In March 2020, the Australian Government expanded Medicare-subsidised telehealth service to allow Australians to access health services from home or place of care and help limit the potential exposure of patients and health practitioners to the virus. This included new temporary MBS items for service providers to provide telehealth services, either by videoconference or by telephone, as a substitution for existing face to face MBS consultation services (DoH 2020). The Australian Government subsequently announced additional funding for crisis lines (Lifeline, Beyond Blue and Kids Helpline), digital and online services, and support for healthcare professionals. The Australian Government funded Beyond Blue to create a dedicated Coronavirus Mental Wellbeing Support Service to provide free 24/7 mental health support.
From April 2020, surveys have been conducted by the Australian National University, University of Melbourne and headspace to investigate the adverse impacts of the pandemic on the mental health of Australians.
In May 2020 the National Cabinet endorsed the National Mental Health and Wellbeing Pandemic Response Plan (NMHC 2020) and the Australian Government committed an additional $48.1 million in support of its priority actions. The National Cabinet agreed on using the 3-step framework, a guide to easing the restrictions in many states and territories. Also in May, the Australian Government appointed Dr Ruth Vine as Australia's first Deputy Chief Medical Officer for Mental Health.
In August 2020, MBS subsidised services under the Better Access initiative was expanded to provide 10 additions to the MBS-subsidised individual psychological therapy sessions for people in areas subject to lockdown restrictions. In the 2020–21 Federal Budget in October 2020, access was expanded to these 10 additional sessions to all Australians. More information on the Australian Government response to COVID-19 can be found on the Better Access page.
From January 2022, telehealth services have been made an ongoing feature of MBS arrangements (DoH 2022a).
State and territory governments have also introduced a range of mental health support packages to better support the mental health and wellbeing of their residents including provision for existing specialised mental health services to explore COVID-19 safe methods of service delivery and support for new and existing clients. More information on the responses of state and territory governments can be found on the websites of the respective health departments.
More detailed information can be found on the Mental health impact of COVID-19 section.
Recent national developments
In November 2020, the Productivity Commission released the final report of the Mental Health Inquiry, a guide to reforming Australia's mental health system to create a person-centred mental health system (Productivity Commission 2020). The Productivity Commission found that Australia's current mental health system is not comprehensive, and that reform of the mental health system would produce large benefits in quality of life for people with mental ill-health valued at up to $18 billion annually, with an additional annual benefit of $1.3 billion due to increased economic participation. The review placed an emphasis on prevention and early intervention, and on the importance of mental health consumer and carer involvement in all aspects of the mental health system.
In the 2021–22 Federal Budget, $2.3 billion over 4 years was allocated to the National Mental Health and Suicide Prevention plan, responding to recommendations from the Productivity Commission's Inquiry Report on Mental Health, the Royal Commission into Victoria's Mental Health System and advice from the National Suicide Prevention Advisor (Department of the Treasury 2021). The plan includes 5 pillars to this investment which address:
Prevention and early intervention
Suicide prevention
Treatment
Supporting the vulnerable
Workforce and governance.
A further $547 million was allocated to support these pillars in the 2022-23 Budget (DoH 2022b).
Through the 2021–22 Budget, $117 million was provided to establish a comprehensive evidence base to support real time monitoring and data collection for our mental health and suicide prevention systems, enabling services to be delivered to those who need them, and improving mental health outcomes for Australians (Department of the Treasury 2021).
National mental health policies and strategies
The Australian Government and all state and territory governments share responsibility for mental health policy and the provision of support services for Australians living with a mental disorder. State and territory governments are responsible for the funding and provision of state and territory public specialised mental health services and associated psychosocial support services. The Australian Government funds primary care and out of hospital specialised care through the Medicare Benefits Schedule and also funds a range of services for people living with mental health difficulties. These provisions are coordinated and monitored through a range of initiatives, including nationally agreed strategies and plans.
The importance of good mental health, and its impact on Australians, have long been recognised by Australian governments. Over the last 3 decades these governments have worked together, via the National Mental Health Strategy, to develop mental health programs and services to better address the mental health needs of Australians. The National Mental Health Strategy has included five 5-year National Mental Health Plans which cover the period 1993 to 2022 (DoH 2018), with the Council of Australian Governments (COAG) National Action Plan on Mental Health overlapping between 2006 and 2011. A sixth National Mental Health plan is currently under development
Monitoring mental health consumer and carer experiences has been a long-term goal of the National Mental Health Strategy. More information on consumer and carer experiences is progressively becoming available through the Your Experience of Service (YES) survey, which is currently used in some jurisdictions in Australia. It is offered to consumers who interact with specialised state and territory mental health services and aims to help these services and mental health consumers to work together to build better services. More information on the YES survey can be found in the Consumer perspectives section. Information on the outcomes of mental health care is also reported to gauge the effectiveness of mental health services from the perspective of both clinicians and consumers. These data form part of the National Outcomes and Casemix Collection (NOCC) More information can be found in the Consumer outcomes section.
Roles and responsibilities
There is a division of roles and responsibilities in Australia's mental health system, with services being delivered and/or funded by the Australian Government, state and territory governments and the private and non-government sectors.
Service access
The 2020–21 National Study of Mental Health and Wellbeing collected data on mental health service access in the preceding 12 months. From this survey, it is estimated that 3.4 million Australians aged 16–85 saw a health professional for their mental health in the previous 12 months (ABS 2022). Of those with a lifetime mental disorder who experienced symptoms within the last 12 months:
38% consulted a general practitioner
22% consulted a psychologist
8% consulted a psychiatrist.
Which health professions did Australians consult for mental health?
This figure shows the number of males and females who accessed mental health professionals in the previous 12 months. Health professionals include GP's, Psychiatrists, Psychologists, mental health nurses other mental health professionals and no consultation with a health professional for mental health.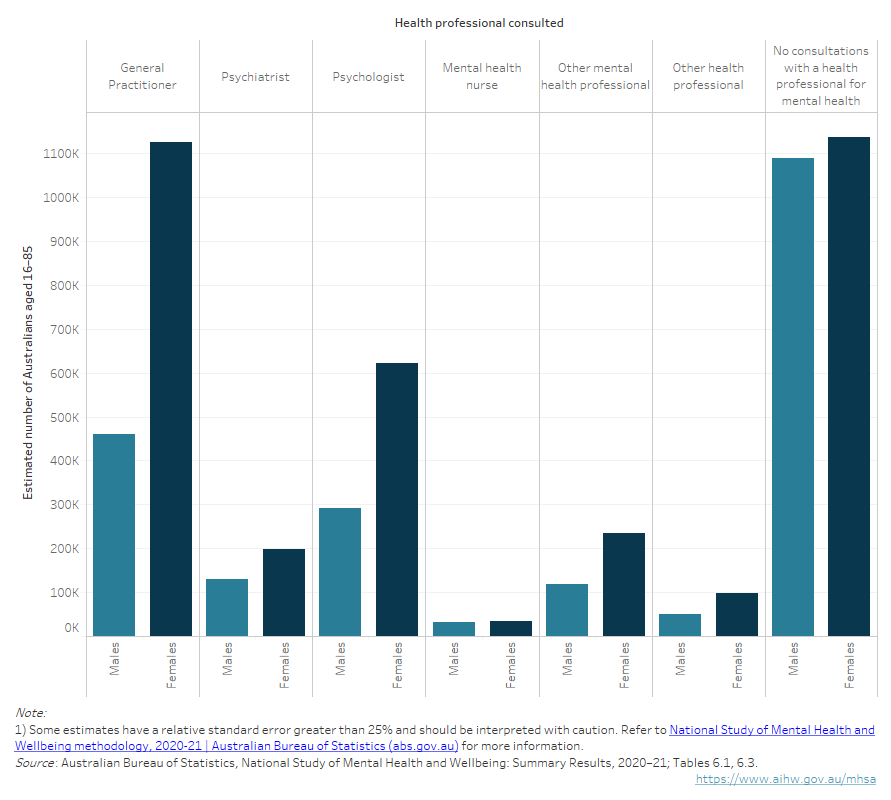 Note: Some estimates have a relative standard error greater than 25% and should be interpreted with caution. Refer to National Study of Mental Health and Wellbeing methodology, 2020-21 | Australian Bureau of Statistics (abs.gov.au) for more information.
Source: Australian Bureau of Statistics, National Study of Mental Health and Wellbeing: Summary Results, 2020–21; Tables 6.1, 6.3.

About 860,000 Australians aged 16–85 also accessed at least one digital service used for mental health, such as crisis support, treatment programs or information (ABS 2022).
Of those who did not access mental health care, the majority (89%) reported that they perceived having no need for any mental health care.
During the course of the COVID-19 pandemic in 2019–20, 45% of MBS mental health specific services were provided by psychologists (including clinical psychologists), 31% were provided by general practitioners (GPs) and 20% were provided by psychiatrists (AIHW 2021).
Last updated in October 2022