Education and skills
Education is about gaining the knowledge and skills a person needs to participate in all aspects of daily life. Having a higher level of education generally results in better employment outcomes and higher income – key factors in economic security and independence.
While 89% of school-age (5–18 years) children with disability go to school, and many people with disability are undertaking further study, some face challenges engaging in education. This is reflected in the overall lower levels of educational attainment for people with disability.
This domain looks at the participation of people with disability in education, their level of educational attainment, and their educational needs.
Disability Standards for Education
Disability Standards for Education 2005 is part of the Disability Discrimination Act 1992 (Cwlth). The standards set out the rights of students with disability and how education providers, such as schools and universities, must help them have the same educational opportunities and choices as other students.
Summary card 1 showing key statistics for engaging in education. The card shows that 1 in 10 school students have disability. Most students with disability are attending mainstream schools: for example, in 2018, 89% of students with disability attended mainstream schools or classes, and 12% attended special schools or classes.
Summary card 2 showing key statistics for educational attainment. The card shows that 1 in 3 people aged 15 and over with disability, who left or never attended school, have completed year 12, compared with 2 in 3 people without disability. People aged 15 to 64 for whom onset of disability occurred at age 14 or under are more likely to have left school before age 16 (21%) than those without disability (9%).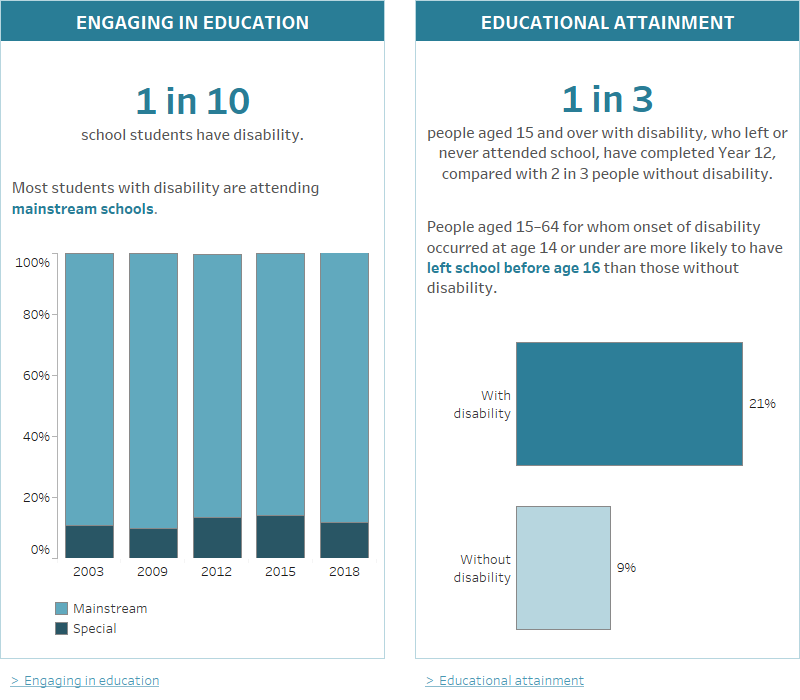 Summary card 3 showing key statistics for education needs and challenges. The card shows that 37% of school students with disability receiving support need more support. The card also shows that 4 in 5 school students with disability have specific schooling restrictions. The card contains a bar chart showing most common restrictions of school students with disability. The most common restrictions are having difficulty at school (77%) and use special assistance (55%).